WPL 2023: Despite losing three matches in a row in the Women's Premier League, Royal Challengers Bangalore (RCB) have not changed their game. Even though the opponents are changing, the team's mindset is not changing.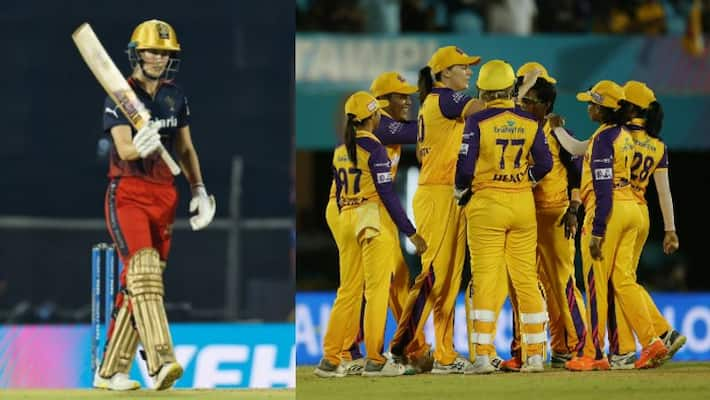 First Published Mar 10, 2023, 9:02 PM IST
Consecutive hat-trick defeats.. The chances of the final are diminishing.. The crucial match is being played.. But the story of RCB has not changed. The team continued to fail in batting and disappointed once again in the ongoing match against UP Warriors. Ellie Perry (52 off 39 balls, 6 fours, 1 six) and Sophie Devine (36 off 24 balls, 5 fours, 1 six) all failed in that team. As a result, the team was bowled out for 138 runs in the allotted 20 overs. We have to wait and see if the bowlers will bring luck to RCB in this match where the batsmen failed.
RCB who won the toss and batted first did not get the expected start once again. Captain Smriti Mandhana (4) once again disappointed. But another opener Sophie Devine played aggressively. Devine added 29 runs with Mandhana for the first wicket, 25 of which were her own. Elise Perry who came in One Down also played excitedly. Both added 44 runs for the second wicket. But RCB gradually lost wickets after that.
Devine was clean bowled on the second ball of the 9th over of the RCB innings bowled by Ecclestone. Kanika Ahuja (8) was dismissed by Deepti Sharma shortly after that. Heather Knight (2) was run out off the bowling of Rajeshwari Gaekwad in the 12th over. Perry took a single off the second ball of the 13th over and completed his first half-century this season. Shreyanka Patil (15) hit two fours in the same over. But in the 15th over by Ecclestone, Adaboi played a huge shot and Anjali Sarvani was caught at the boundary line. The team lost five wickets for 117 runs in 15 overs.
In the last overs, RCB's collapse was even faster. Perry was dismissed by Deepti Sharma in the 17th over. Erin Burns (12) was also clean bowled in the same over. Wicket keeper Richa Ghosh (1) was run out on the first ball of the 18th over.
Bangalore managed only two runs in the last two overs. In the last over bowled by Ecclestone, Renuka (3) was dismissed in the second ball and Sahana Pawar (0) in the third ball. As a result, RCB were limited to 138 runs. Among the UP bowlers, Ecclestone took four wickets and Deepti Sharma took three wickets.
Last Updated Mar 10, 2023, 9:02 PM IST
.