WPL 2023: Only four more matches are left to complete the first edition of the Women's Premier League. In this background, the play off race has become interesting.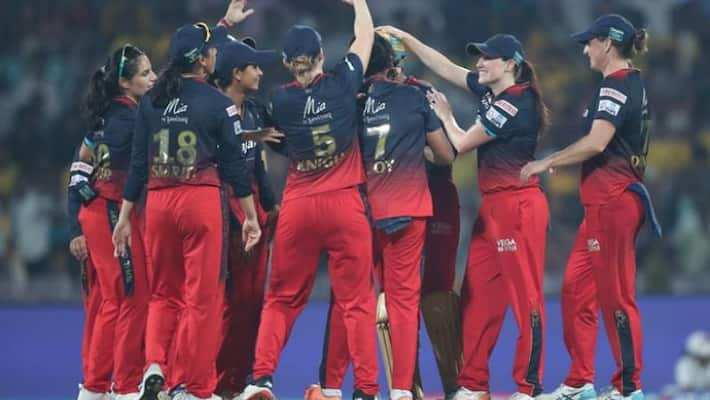 First Published Mar 19, 2023, 3:10 PM IST
Royal Challengers Bangalore (RCB), who entered the Women's Premier League with huge expectations, failed to meet the expectations of the fans. After losing the first five matches played, they bounced back. The team which defeated UP Warriors on 15th of this month, defeated Gujarat Giants by a landslide on Saturday. However, RCB still have chances of playoffs in this league as they have won two matches in a row.
Looking at the WPL points table at present, Mumbai is at the number one position with 10 points after winning five of six matches, while Delhi is at the second position after playing six matches and winning four of them. Both these teams have qualified for the playoffs.
In the third position, UP Warriors have won three out of six matches and have six points, while RCB have won only two out of seven matches and are in the fourth position. Gujarat Giants also won two out of seven matches but finished last due to net run rate.
If RCB wants to reach the playoffs..
Now if RCB wants to make it to the playoffs, they must win their next match against Mumbai. Moreover, the UP Warriors team will have to lose in the next two matches. UP will play the next matches in this league against Delhi Capitals and Gujarat Giants.
Net run rate is important..
If UP loses both matches, RCB.. If they beat Mumbai then Mandhana and co. gets six points. But nett run rate will become the key here. Currently, UP's net run rate is -0.117 while RCB's is -1.044. If RCB.. won a big win against Mumbai, UP.. lost by 40 runs in their next matches, then RCB will have a better run rate than UP's net run rate.
Is this all that happens?
All these are the calculations that put a lamp in the air. In fact, it will not be easy for UP to lose their next two matches by a huge margin. UP has more chances to reach the playoffs than RCB and Gujarat even if they win one match or face simple defeats in two matches. RCB, who have lost in five matches in a row, woke up late but won the last two matches and are giving relief to the fans. If such a victory is achieved in the last match as well, this league can be ended with victory.
Last Updated Mar 19, 2023, 3:10 PM IST
.