Thieves in Tamil Nadu's Trichy. He attacked a female professor, dragged her a short distance and released her. Later he committed robbery. Now that the video of this incident has come out, the police have registered a case against the accused.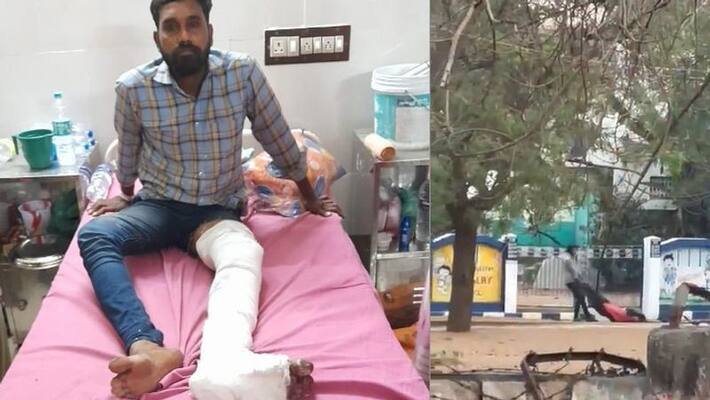 First Published Mar 17, 2023, 1:21 AM IST
In Tamil Nadu's Tiruchi, robbers have created havoc. A female professor was indiscriminately attacked and robbed. A miscreant attacked a woman walking on the road with a wooden board. She fell on the ground and became unconscious. After that, the assailant dragged the woman for a short distance and left her, taking her mobile, money and scooter key and fled. When the woman regained consciousness, she lodged a complaint with the police. The video of this incident which took place in Tiruchi on Sunday is going viral.
The details are as follows.. The victim's name is Sita Lakshmi. She is a professor at Anna University. The incident took place when Seethalakshmi was walking alone near the university on Sunday. The assailant, Senthil Kumar, hit her on the head with a wooden plank. Later, Senthil dragged Seethalakshmi from the road to the footpath, took the keys of the two-wheeler, stole her mobile phone and fled from there.
The woman fainted after the incident. When she regained consciousness, she informed the police. The police immediately reached the spot and interrogated the woman. The people who were there recorded the incident and assisted in nabbing the accused. The woman is fine now. At the same time, the police registered a case against the accused.
A case was registered against Senthil Kumar of Pajamanari, Tamil Nadu on the complaint of Seethalakshmi. The police identified the residence of the accused Senthil Kumar. When they went to catch him, he tried to escape from the police on a two-wheeler. In this process, Senthil injured his leg. The two-wheeler met with an accident. Senthil is undergoing treatment for a broken leg. The police said that he will be arrested as soon as he recovers. A video of an unconscious Sita Lakshmi being dragged has now gone viral, raising questions about law and order and public safety.
Last Updated Mar 17, 2023, 1:21 AM IST
.