AP CM YS Jagan has decided to rule from Visakhapatnam from July.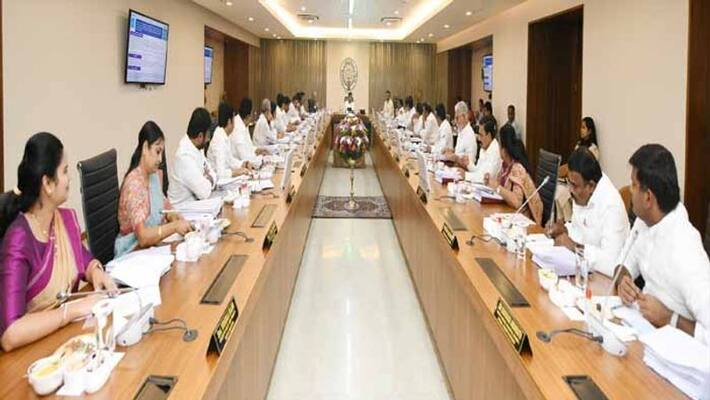 First Published Mar 14, 2023, 3:32 PM IST
Amaravati: AP CM YS Jagan has decided to continue ruling from Visakhapatnam from July. The CM made it clear that the ministers should be ready to rule from Visakhapatnam. On Tuesday, CM Jagan discussed political issues with the ministers after finishing the agenda items in the AP Cabinet.
AP CM Jagan expressed his anger on the behavior of some ministers. He commented that he was observing your performance. Jagan decided that he is ready to get rid of ministers who have not changed their performance. He made it clear that he would not hesitate to make changes in the cabinet if necessary.
He concluded that the MLA quota should be won by the MLCs. He said that there is no difference even if there is any difference. Jagan advised the ministers to counter the criticisms made by the opposition parties.
The three capitals factor to the fore
After YCP came to power in AP, the issue of three capitals was brought to the fore. In 2014, when Chandrababu Naidu was the CM, Amaravati was declared as the capital. The foundation stone of the capital was also laid at Amaravati. YSP brought the issue of three capitals to the fore with the intention of developing all parts of the state. All the parties in the state are vehemently opposed to the three capitals except the YCP.
Jagan is determined to rule from Visakhapatnam by the next election. But there are cases in the courts regarding this matter. The Jagan government intends to rule from Visakhapatnam after the court cases are cleared. Jagan Sarkar has challenged the AP High Court's verdict on the issue of three capitals in the Supreme Court. The Jagan government will try to get this petition heard in the Supreme Court soon.
The Supreme Court has stayed the verdict given by the AP High Court on the issues of three capitals. The Jagan government hopes to ensure that there are no legal problems in the case of the three capitals.
also read: Lies by the justice-hungry governor.
Meanwhile, the budget meetings of the AP Assembly have started today. The budget meetings started with the speech of AP Governor Abdul Nazir. The governor's speech did not address the three capital issues. But in the cabinet meeting, Jagan announced that he will rule from Visakhapatnam. It is known that AP CM Jagan commented that Visakha will become the administrative capital in the Global Investors Summit held on 3rd and 4th of this month.
Last Updated Mar 14, 2023, 3:59 PM IST
.