Mother Language Day celebrations were held at Bank of Baroda Zonal Office, Hyderabad. Many officers and staff spoke in their mother tongues like Hindi, Telugu, Odia and Bengali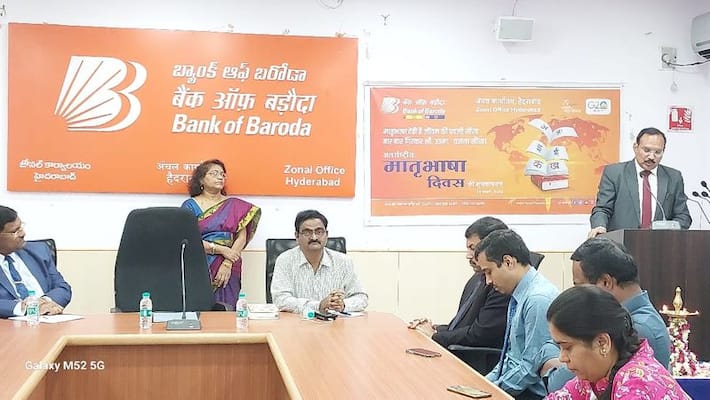 First Published Feb 24, 2023, 4:15 PM IST
Manmohan Gupta, Chief General Manager, Bank of Baroda, said that ideas, philosophy, ideology and knowledge are spread from one generation to another through languages. He participated in the recent Mother Language Day celebrations at the Bank of Baroda Zonal Office in Hyderabad. He said that Bank of Baroda is at the forefront of providing services to customers in their mother tongue. Digital services, s. MS He mentioned that mother tongues are being used in warnings etc. He explained that the United Nations has decided to celebrate International Mother Language Day on February 21 every year.
The eminent poet and writer who attended the ceremony as the chief guest said that there is a danger of the language disappearing if there are no language practices. Raya Rao Suryaprakash Rao said. He explained about the languages ​​and dialects which are gradually disappearing in the country. He suggested that mother tongue should be made mandatory in daily affairs. Deputy Zonal Chief CH Rajasekhar said in his speech that one should not forget the mother tongue even if one learns other languages ​​as needed. He believed that a person can express his feelings properly only in his mother tongue.
Deputy General Manager Govind Prasad Verma, Deputy General Manager M.V.S. Sudhakar asked. Gowri, Chief Manager of Official Languages ​​explained Bank of Baroda's priority for Indian languages. On this occasion, many officers and staff spoke in their mother tongues like Hindi, Telugu, Odia and Bengali. Narrating small poems and sayings in their mother tongues brought the program to life.
On this occasion, prizes were awarded to the participants of the seminar held at the Zonal Office Training Center Baroda Academy and also to the winners of the competitions held in quiz, essay writing, proverbs etc. Senior officers and staff of Zonal Office participated in this program.
Last Updated Feb 24, 2023, 4:15 PM IST
.