"RRR" writer Vijayendra Prasad says that Prime Minister Modi and Hollywood director Steven Spielberg said the same thing to him and Rajamouli. He made an interesting comment.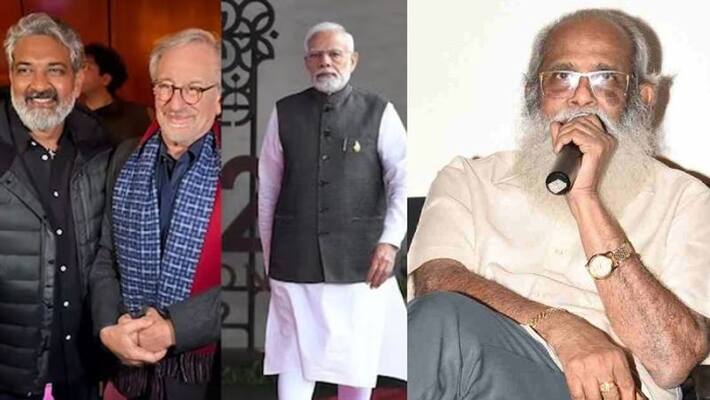 First Published Mar 15, 2023, 4:43 PM IST
Now everywhere there is a discussion about "RRR". The whole of India will be proud of this movie's Oscar win. From politicians, movie celebrities, business people to common people are praising the movie and the team. "Natu Natu" also won an Oscar in the original song category for "RRR". It is the first time that an Indian film has won an Oscar in the song category, so all India is celebrating.
Rajamouli's father, Rajya Sabha MP Vijayendra Prasad responded to this. He shared his joy. He said that the international audience liked the emotion in the story and supported the film, which made it such a success. On the other hand, in a media interview, it was revealed that Hollywood legendary director Steven Spielberg had told him the same thing that Prime Minister Modi had told him in the past.
Vijayendra Prasad said, I met Prime Minister Modi a few days ago. If he wanted to talk to us for four minutes, he talked for forty minutes. At that time we discussed how the whole world should look towards India. I was surprised by Modi's vision. Vijayendra Prasad said that the culture of our country is very rich and we should work hard to spread it to the world.
Vijayendra Prasad said that when Rajamouli met director Steve Spielberg, he said the same thing. The legendary writer revealed that he advised Rajamouli to make films to promote Indian culture. He said that behind the success of "RRR" there are three generations of hard work. Rajamouli directed the film while his brother Siva Shakti Dutta helped write the script. Along with them, Rajamouli's wife Ramarajamouli, Keeravani, Kalabhairava…this success was possible as a result of the joint efforts of many people.
Currently, he is preparing the script for the upcoming movie in the combination of Mahesh Babu and Rajamouli. He said that this movie is going to be an international action adventure. Rajamouli is planning to make this film with international level artists and technicians. It is reported that this movie will start next year. Jakkanna said that they are planning this movie with around one thousand crores.
Last Updated Mar 15, 2023, 4:43 PM IST
.