Union Minister V Muraleedharan's residence was attacked by unidentified assailants in Kerala's Thiruvananthapuram. At Muralidharan's residence in Ullur, the staff found the glass of the parking window broken and informed the police.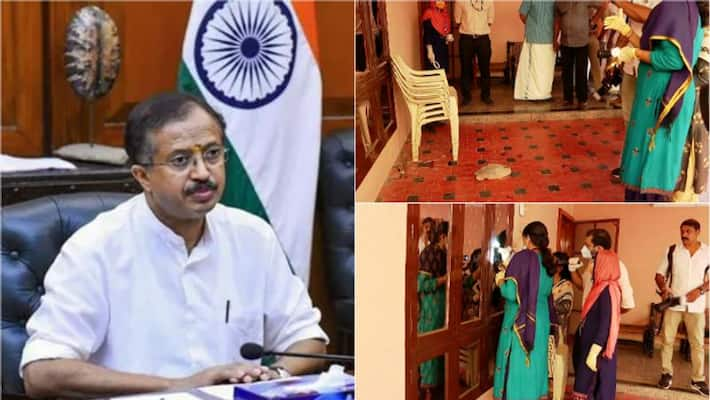 First Published Feb 10, 2023, 5:50 AM IST
Minister of State for External Affairs (MoS) V Muraleedharan's house in Thiruvananthapuram was vandalized by unidentified assailants on Wednesday night. In this attack, the window panes were destroyed in the parking area of ​​the minister's residence. The police reached the spot after being informed by Muralidharan's office staff.
The officer said that the staff was attacked around 11 am on Thursday. Later, the staff informed the police about the incident. A senior police officer who inspected the spot said that the blood recovered from the spot has been sent for forensic examination. A team headed by Deputy Commissioner of Police (DCP) Ajith Kumar is investigating the case. The police are examining the CCTV footage of the nearby areas to identify the accused.
A senior police officer who inspected the incident said that they have started an investigation into the incident and are trying to catch the people responsible for the incident and find out their motives. He said that there were blood stains at the scene of the incident and they have been sent for forensic examination. Neighbors said they did not hear any noise or commotion.
At the same time, the Bharatiya Janata Party (BJP) demanded a thorough investigation into the incident. Chief Minister Pinarayi Vijayan said that a special team has been constituted to investigate the stone pelting on Muralidharan's house in Thiruvananthapuram. The police are investigating the matter. The Chief Minister said that what actually happened will be clarified.
According to information, Muralidharan was not at home when the house was vandalized. According to people familiar with the matter, the domestic helper found the window glass broken and informed relatives and party workers about the incident. The police said that those behind the incident are yet to be identified, but investigations are underway.
Last Updated Feb 10, 2023, 5:50 AM IST
.