Nandamuri Tarakaratna, who was undergoing treatment for the past three weeks due to serious illness, died yesterday (Saturday) in Bengaluru, the capital of Karnataka. His last rites will be held in Hyderabad on Monday.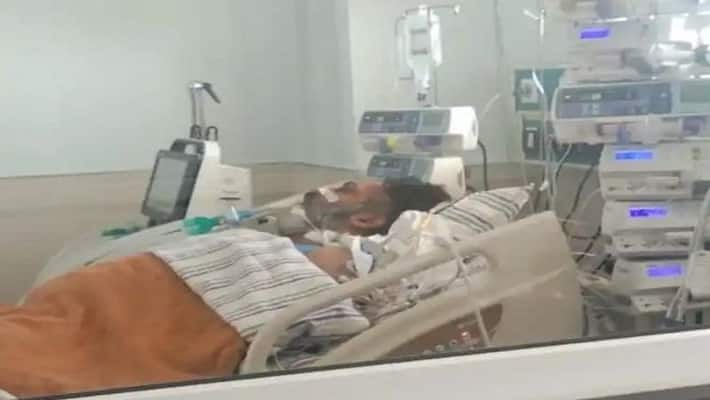 First Published Feb 19, 2023, 9:18 AM IST
Hyderabad: The death of hero Tarakaratna from the Nandamuri family has plunged the Telugu film industry into grief. Tarakaratna, who was undergoing treatment at the Narayana Hrudayalaya Hospital in Bangalore for the last three weeks, passed away on Saturday (yesterday) after her health deteriorated completely. Nandamuri's family moved his body in a special ambulance and it reached Hyderabad in the early hours of Sunday morning.
Tarakaratna's mortal remains were kept at his residence in Mokilo, Ranga Reddy district, a suburb of Hyderabad, for family and relatives to visit. Film celebrities are paying their respects to Tarakaratna and reaching his residence in large numbers to console the family members. Nandamuri's fans are also coming in large numbers to see their favorite actor once in a while and bid a final farewell.
However, Tarakaratna's mortal remains will be kept in Film Chamber in Filmnagar tomorrow (Monday) for fans to visit. The funeral will be held there from morning to afternoon and at five o'clock in Mahaprasthanam. Along with Nandamuri's family members, film and political celebrities will participate in the funeral.
Read More How did TDP's archenemy Vijayasai Reddy become Tarakaratna's uncle? Shocking details of wife Alekhya!
TDP National General Secretary Nara Lokesh, who took part in the inaugural function of 'Yuvagalam' Padayatra, fell ill in Chittoor district Kuppam. Tarakaratna, who fell seriously ill while in the crowd, was taken to Kuppam Hospital and treated. From there he was shifted to Bangalore's Narayana Hrudayalaya for better treatment. He was treated there for the last 22 days.
No matter how hard the doctors tried, they could not save Tarakaratna's life. Since he was admitted to the hospital, his condition remained critical and he was treated in the ICU. Even though special medical teams were brought from abroad to provide better treatment, there was no result. Nandamuri's family members and cinephiles are deeply saddened and Tarakaratna has gone to the worlds of no return.
Tarakaratna, the son of the former Chief Minister of the joint AP and Telugu legendary actor Sr. NTR, was born in 1983 in Hyderabad. As an actor, he got good recognition with the movie 'Okato Number Kurradu' released in 2002. Along with the response to the film, Tarakaratna also got a good name. After that he entertained with films like 'Yuvaratna', 'Bhadradi Ramudu', 'Amaravati' and others. Finally acted in a key role in 'S5 No Exit'. Now he has become a character artist and is doing films. On the other hand, they are going to be busy in politics. He joined his family party Telugu Desam Party and became active in politics. They are also planning to contest in the next election. But in the meantime, tragedy struck.
Last Updated Feb 19, 2023, 9:22 AM IST
.