The government has implemented anti-money laundering regulations on cryptocurrencies or virtual digital assets to tighten monitoring of digital assets. The Finance Ministry said in a gazette notification that the Anti-Money Laundering Act has come into effect for crypto transactions, possession and related financial services.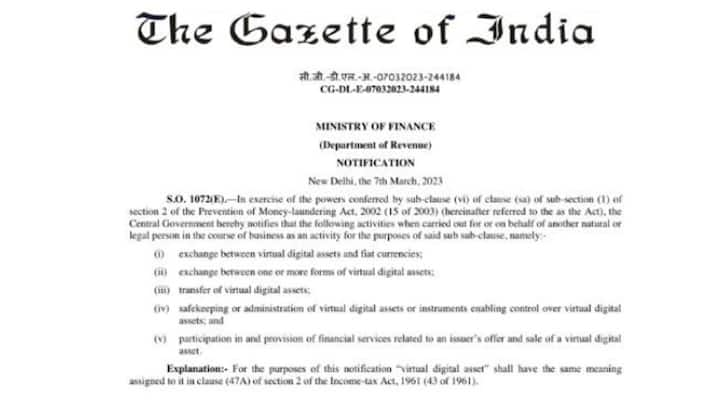 First Published Mar 9, 2023, 1:01 PM IST
The central government has brought crypto currency virtual asset transactions under the Money Laundering Act. In this regard, the Union Finance Ministry issued a statement on Wednesday. Along with this, the government has taken an important step in strengthening the monitoring of digital assets in the country and abroad.
In the notification, transactions involving virtual digital assets are subject to provisions of the Prevention of Money Laundering Act (PMLA). People should be wary of engaging in financial services where digital currency issuers offer the sale of virtual digital assets. It has been clarified that the exchange and transfer of virtual digital assets also come under the PMLA Act.
India is yet to finalize laws and regulations on cryptocurrencies, but even the Reserve Bank has warned against their use several times. The Reserve Bank has repeatedly demanded that cryptocurrencies be banned as they resemble fake schemes. On the other hand, crypto has been brought under the Money Laundering Act.
What is the importance of notification?
The extension of India's money laundering regulations to cryptocurrencies would give authorities greater powers to monitor the transfer of these assets across national borders in the country.
The government suggested to bring regulations
Finance Minister Nirmala Sitharaman recently advocated a global framework for cryptocurrencies. Along with this, she also talked about strengthening banks. At the same time, the country's central bank, the Reserve Bank of India, is often demanding new regulations for cryptocurrency. RBI has repeatedly said that crypto currencies are similar to Ponzi schemes.
India has asked the IMF, Financial Stability Board (FSB) to jointly prepare a technical paper on crypto assets under the G20 presidency. It will be used to prepare a coordinated and comprehensive approach to regulating crypto assets.
Last Updated Mar 9, 2023, 1:01 PM IST
.