The love of two young women in Mancharyala district brought the life of a young woman. She strangled herself to be intimate with another young man.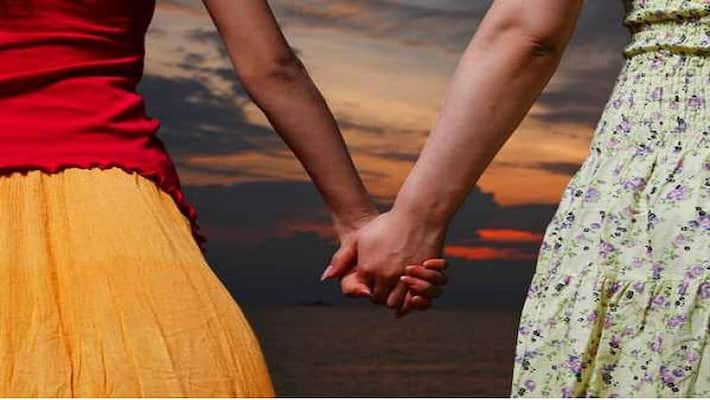 First Published Mar 17, 2023, 6:52 AM IST
Mandamarri: New things are coming to light in the incident of attack on two young women which created a ruckus in Mancharya yesterday. It was found that the two young women were cohabiting. The friendship formed between the two young women turned into love and went to cohabitation. After that, out of anger that one of them was being intimate with another person, a young woman killed another young woman. This incident created a commotion in Manchyryala district on Thursday. Going into the details of this..
The incident came to light on Wednesday night in Ramakrishnapur police station of Manchyryala district. According to the locals, the deceased's family members and the police, the names of the two young women are Salluri Anjali (21) and Kurd Maheshwari. Anjali is a resident of Mamidigattu, Mandamarri Mandal, Manchiryala District. Anjali's grandmother lives in Mannegudem of Nennela mandal in the same district. Anjali used to come there often. Anjali came in contact with Kurd Maheshwari alias Mahesh who lived in the same village while coming near her grandmother. That contact was a bit of friendship.. then it turned into love.. less than two years ago, both of them started renting a room in Mancharya.
Attack on two young women in Manchyryala district, one killed…!
Maheshwari's sister Parameshwari and Maheshwari's younger brother Vignesh were also there. Anjali used to work in a local glasses shop. Maheshwari was working in a petrol station and quit recently. Maheshwari Mannegudem VRA is the fourth daughter of five stubborn daughters. Maheshwari dressed and behaved like a boy. Locals say that in the last fifteen years she has started behaving completely like a boy. While this was going on, Maheshwari came in contact with a man named Srinivas.
He runs a consultancy in Mancharya. After meeting Maheshwari, he also met Maheshwari's sister Parameshwari, her younger brother Vignesh and Anjali. In this order, Anjali started to be close to Srinivas for two months. kept Maheshwari away. Anjali went to her room at 8.15 in the night after finishing her work at the eye glasses shop on Wednesday. After that at 10 o'clock Maheshwari took Anjali to Mamidi Gattu and left on a two wheeler. After that at 11:30 pm, Maheshwari called Srinivas. Anjali says she committed suicide… she is also committing suicide.
Srinivas, who was upset by this, immediately informed Parameshwari about this. There they saw Anjalini, who was already unconscious due to severe injuries, and Maheshwari, who was slightly injured. Both of them were immediately shifted to Manchryala Government Hospital. Anjali died before reaching the hospital. There are deep wounds on Anjali Meda. After informing the police about the suicides, they reached the hospital and saw the injury on Anjali's neck and suspected that Maheshwari had done it.
Maheshwari had only minor stab wounds on her stomach and neck. It is believed that Maheshwar will kill Anjali and try to make her believe in the name of suicide. Following Anjali's death, the family members protested in front of the Mancheryala Government Hospital on Thursday demanding the arrest of those responsible for her death. The police have registered a case and are investigating. Maheshwari and Srinivas are being detained and questioned.
Last Updated Mar 17, 2023, 6:52 AM IST
.