Dussehra movie is ready for release. Hero Nani is confident that he will shake the box office with this film. At the same time, a bad feeling scares him.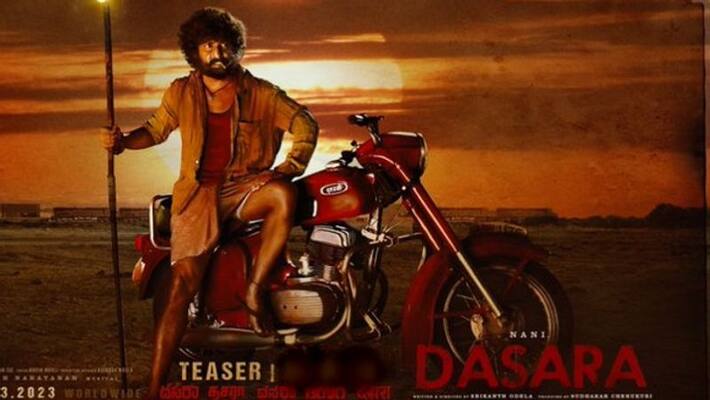 First Published Mar 15, 2023, 3:33 PM IST
Hero Nani has high hopes for the success of the Dussehra film. He was definitely in a position to hit. The reason is that his track is not very good. In recent times, only Shyam Singarai movie starring Nani has received hit status. Last year's Ise Sundarani was also a disaster. It was a film that damaged Nani's market. Even after getting positive talk, it could not collect the minimum amount.
In this sequence, Kasiga Dussehra film was made. The released trailer is impressive. Confidence in the success of the film increased. But a bad sentiment scares Nani. Sri Lakshmi Venkateswara Cinemas banner, which produced the Dussehra film, has a terrible record. All the films produced by Sudhakar Cherukuri, the head of this company, are disasters. Not one, not two, but five films in a row became absolute flops.
Sudhakar Cherukuri became a producer with Balakrishna's movie Lion. Lion double disaster. Padi Padi Leche with hero Sharwanand was a flop, but women with him were a disaster. Virataparvam was the fourth film produced in that company. This periodical revolutionary love drama starring Rana-Sai Pallavi turned out to be a disaster. Even Mass Maharaj Ravi Teja could not give a hit to this banner.
Rama Rao On Duty is the worst movie in Ravi Teja's career. Pan India movie Dussehra is being made as the sixth attempt. The budget of this film is Rs. More than 50 crores. At this moment, there is interest whether Hero Nani will overcome the disaster sentiment that is haunting the producer Sudhakar Cherukuri or not. If the sentiment continues, I will be in trouble. But these sentiments are only superstitions. Not guaranteed to happen every time. So some argue that there is no need to take it seriously.
Dussehra film is directed by Srikanth Odela. Keerthy Suresh is playing the heroine. It will release worldwide on March 30 in five languages. The music provided by Santhosh Narayan is impressive. It is a dark emotional drama. Things like love, politics, social differences seem to be mainly discussed.
Last Updated Mar 15, 2023, 3:33 PM IST
.