Three youths met with a road accident while visiting Alampur Jogulamba Ammavar to celebrate Shivratri festival. Three boys died on the spot when the bike was hit by a chicken van.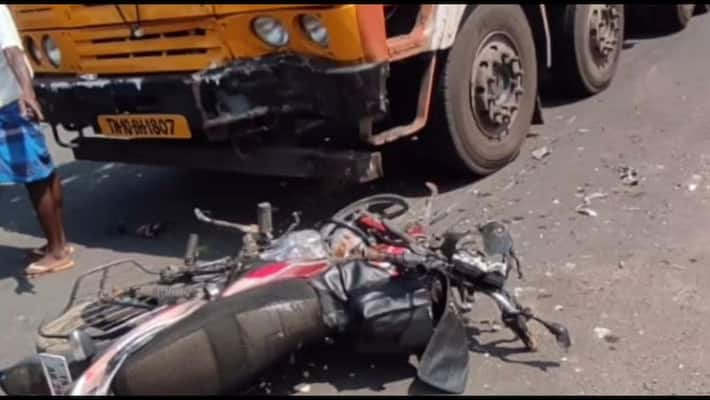 First Published Feb 19, 2023, 8:36 AM IST
Alampur: On the occasion of Shivratri festival, which should be celebrated amid joy, some families are filled with sadness. Last night, many accidents took place in Telugu states, bloodied the roads and claimed many lives. On Saturday (yesterday), three people died in Godavari bath at Pattiseema, three more died in a road accident on the highway at Bhimadolu, five died in a car accident in Bapatla district and three more boys died in a bike accident in Jogulamba Gadwala district at midnight. These accidents filled the states of Andhra Pradesh and Telangana with tragedy.
The road accident in Gadwala district of Telangana is very bad. On the eve of Shivratri festival, three boys who had reached the Jogulamba temple and had darshan of the goddess met with an accident on the way back. A bike accident in the middle of the night killed all three and left their parents grieving.
Three boys from Korvipadu village of Manavapadu mandal visited Jogulamba which is one of Amma's Shaktipeeths in Alampur during Shivratri festival. Sai Goud (15), Shekhar (15) and Rafi (16), an intermediate student, who are currently studying in class 10, reached the Jogulamba temple on a bike from their village. After the darshan of Ammavari, they stay in the temple till 12 o'clock in the night, keeping vigil on Shivratri. He returned from the Alampur temple on a two-wheeler at midnight.
Read More Tragedy during festival… Fatal road accident in Bapatalu… Five people died
But while they were speeding on a bike, a chicken load van going from Itikyala mandal to Alampur collided with it. When a speeding van collided with a bike at Bairapuram, three youths were thrown into the air and fell to the ground. Due to this, Sai and Rafi died on the spot due to severe injuries. Shekhar, on the other hand, suffered shortness of breath for a while and died before receiving medical treatment. Three boys who went to see Amma died.
As soon as the information about this accident was received, the police reached the spot and collected the details of the deceased and informed the family members. Later, the three bodies were shifted to the area hospital for post-mortem. The police said that a case has been registered and investigation has been started.
Last Updated Feb 19, 2023, 8:36 AM IST
.