Anil Kumble 10 Wickets: Today (February 7) is a golden day in the history of Indian cricket. India's leg spin wizard Anil Kumble broke Pakistan's back and took ten wickets in one inning today.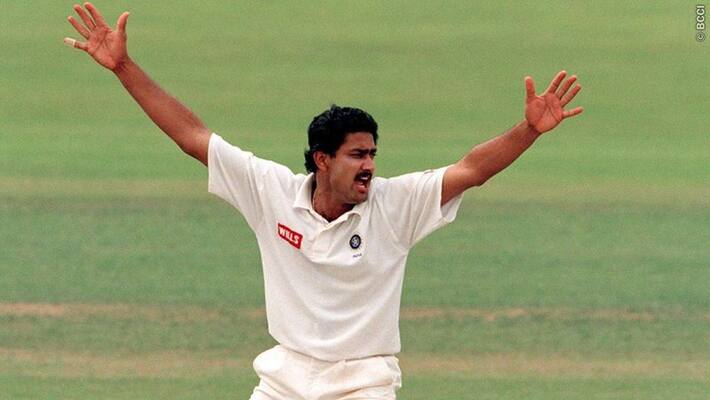 First Published Feb 7, 2023, 5:08 PM IST
There are many unforgettable achievements in the history of Indian cricket but some of them are forever new. Especially in Test cricket, the performance of Anil Kumble, the spin legend of Team India, caught in the spin trap and the batsmen of the country fell like a pawn, is still remembered in the eyes of Indian cricket fans. Today is 24 years of that miracle. In that match which was held at Delhi's Feroz Shah Kotla ground, Pakistan was crushed by Kumble. In this match, it is noteworthy that ten out of ten men in Pakistan's innings were caught in Kumble's spin vortex. Let's see here how the foundation of Kumble's miracle was laid in this match that has passed 24 years today.
It was 1999. Pakistan team came to tour India. The cousins ​​came to India to play two Tests. First Test in Chennai. Even though Sachin Tendulkar scored a century, India lost that match by 12 runs. Second Test in Delhi. If they win, India will be humiliated at home. The pressure was completely on India.
As a continuation of this, India batted in the first innings in the second Test held at the Feroz Shah Kotla ground and were bowled out for 252 runs. Only Shathagopan Ramesh (60) and Mohammad Azharuddin (67) shone. Sachin, Dravid, Laxman, Ganguly, Nayan Mongia failed. Current Pakistan team head coach Saqlain Mushtaka burst with five wickets (5-94). In the first innings, the Indian batters failed but the bowlers performed better. All Pakistan batsmen failed except Shahid Afridi (32). The team was bowled out for 172 runs. Four wickets for Kumble, 3 for Harbhajan and two for Venkatesh Prasad.
In the second innings, Team India shone in batting. Along with Ramesh (96), Ganguly (62) and Javagal Srinath (49) excelled. India were bowled out for 339 runs. In the first innings, Team India set a target of 420 runs against Pakistan.
Then the jumbo magic started…
Pakistan openers are not afraid to chase the target. Saeed Anwar (69) and Afridi (41) added 101 runs for the first wicket. But in the 24th over of Pakistan's innings bowled by Kumble, the wicket keeper Nayan Mongia took the catch given by Afridi. First wicket out. Then the jumbo magic started. Soon Ijaz Ahmed (0) ducked out. Inzamam-ul-Haq (6), Mohammad Yusuf (0), Moin Khan (3).
Anwar who is watching the downfall of Pakistan with his eyes.. as if he cannot see these horrors.. lost his patience and joined the pavilion. Pakistan, who were 101-0 in 24.1 overs, fell to 128-6 at the end of 38 overs. But at that time, Sameem Malik (15) and Wasim Akram (37) got bored for a while. Together they added 58 runs for the seventh wicket. But after tea, Jumbo was fired up again. Kumble clean bowled Salim Malik.. After that, Saqlain Mushtaq and Wasim Akram were also dismissed and opened the Pakistan innings. In total, Kumble bowled 26.3 overs in this match and scored 74 runs and took 10 wickets. On completion of 24 years of this achievement, BCCI shared the video of Kumble's ten wickets on Twitter.
By taking ten wickets in one innings, Kumble became the second bowler to achieve this feat in Test cricket. Earlier in 1956, England bowler Jim Laker equaled the record. After these two, in 2021, New Zealand bowler Ajaz Yunus Patel of Indian origin achieved this feat against India in the second Test which ended in Mumbai. Ajaj scored 119 runs in 47.5 overs and took 10 wickets.
Last Updated Feb 7, 2023, 5:08 PM IST
.