Telangana Governor Tamilisai made indirect comments regarding the TSPSC paper leak case. She lamented that the students are looking for where to find the question papers instead of writing the answers to all the questions while appearing for the exams like in the past.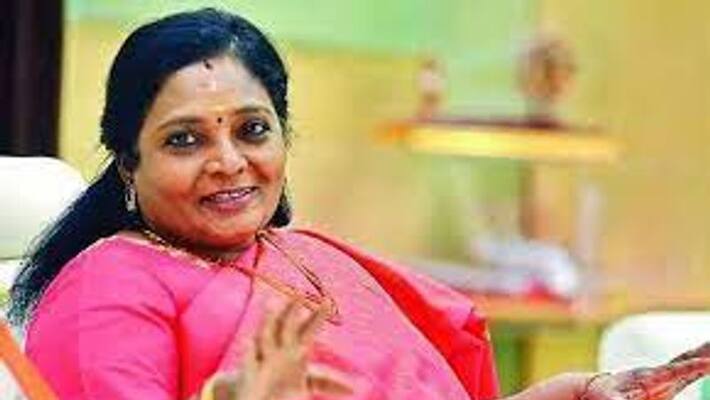 First Published Mar 18, 2023, 8:51 PM IST
Telangana Governor Tamilisai made indirect comments regarding the TSPSC paper leak case which created a sensation in the Telugu states. She attended the graduation ceremony of JNTUH on Saturday and made sensational comments. Tamilisai said that once upon a time, students used to attend exams and write answers to all the questions. But the governor expressed his regret that it is unfortunate that now they are looking for where the question papers will be prepared. Tamilisai commented that many students think that if they appear for the exams now. And let's see how the BRS factions and the Telangana government will react to this.
Meanwhile, Minister KTR said that they have conducted a review regarding the TSPSC paper leak case. CM KCR said that a report has been submitted after a long review. Minister KTR spoke to the media today at BRK Bhavan regarding the paper leak incident. After the formation of Telangana, TSPSC has filled more than 37 thousand jobs. He said that many kinds of reforms and changes can be taken in the Public Service Commission. He said that OTR (One Time Registration) has been brought as a part of it.
Also Read: Paper Leak Case Investigation Intensifies: Praveen, Rajasekhar In SIT Custody, Moved To TSPSC Office
They said that it is their responsibility to punish those who are behind Praveen and Rajasekhar in this case. Candidates will not need to pay any fees for the four exams. He said that all the candidates who applied earlier are eligible to write the exams. He said that the study material related to these exams will be made available online without any difficulty to the candidates.. These can be downloaded for free.
Further, the CIT officials found that TSPSC Secretary PA Praveen and System Analyst Rajasekhar had leaked question papers for many exams since last October. Although Rajasekhar said that an employee of the Commission's office had copied the question papers on a pen drive by stealing the user ID and password, the officials have confirmed that there is no truth in that. It seems that the accused have given false information in this way to divert the investigation of the authorities.
Meanwhile, the Telangana State Public Service Commission (TSPSC) has already canceled the Assistant Engineer (AE) exam in connection with the question paper leak issue. The board has announced that it is doing so. The TSPSC has taken this decision based on the findings of its internal inquiry with the report of the SIT team investigating the question paper leak case.
Last Updated Mar 18, 2023, 8:52 PM IST
.