After three days of its release, Vinaro Bhagyamu Vishnu Katha movie starring Kiran Abbavaram is running successfully. Revealing the details of the three-day collections of this movie, the movie team organized a success meet. What was said on this occasion..?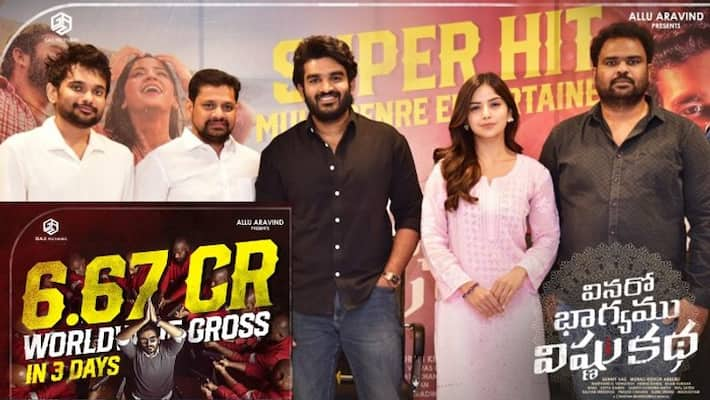 First Published Feb 21, 2023, 10:28 PM IST
Kiran Abbavaram as the hero and Kashmiri Pardesi as the heroine, the movie Vinaro Bhagyamu Vishnu Katha, which came out under the banner of GA2 Pictures. This movie was presented by mega producer Allu Aravind under the banner of the prestigious production company GA2 Pictures and produced by the successful producer Bunny Vasu. Murali Kishore Abburu's directorial debut to Tollywood is this movie which was released on February 18. It is running like a successful pull. A movie team success meet was organized on this occasion. The collections of this film were revealed for three days.
Producer Bunny Vasu says that Vinaro Bhagyamu Vishnu Katha movie is running successfully. Bunnyvasu said that the movie broke even with collections of 6.67 crores in three days. The entire team is very happy about the film. Also, as this movie is running successfully, the team held a press meet and shared their happiness. Along with producer Bunnyvasu, hero Kiran Abbavaram, heroine Pardesi, director and other team participated in this success meet. Bannivasu said that as a producer I am happy with this film. Out of all the films I have done, this film broke even faster. Spent too much on newbies? Everyone is asking that. It was Arvind's discipline that kept the cost under control. That is the secret of our team's success. All this is possible because of our team. Hero Kiran is very humble. said Bannivasu.
And the hero of this movie Kiran Abbavaram said.. He does not know what to talk about when success meetings are arranged. If the movie doesn't play, I won't be seen. I respect the result that the audience gives. So far I have done five films. Media has not come and talked about any movie like this. All industry celebrities also appreciated the movie. Good response is coming from the audience. Kiran appealed to the audience that the entire family should watch this movie together.
Heroine Kashmira Pardesi said.. Thanks to the audience for making this movie such a big hit. Thanks to the director and producers for giving me a chance in such a good movie. If the first movie doesn't work out, they won't give you a second chance. But Geetha Arts gave me a chance. Happy to be a part of such a good film. Kiran is a good actor and felt very comfortable acting with him.
Murali Kishore Abburu, who was introduced to Tollywood as a director with Ecinema, said that this was not just a number neighbor concept. Amma has a sentiment. This is a story about what Lord Vishnu will do when a girl's eyes water. Good things take time to spread. But once it starts, it doesn't stop. That dialogue does not suit us properly' he said.
Last Updated Feb 21, 2023, 10:28 PM IST
.