Amritpal Singh, chief of the radical group 'Waris Punjab Kay', a Khalistan sympathizer, has threatened Home Minister Amit Shah that if he tries to stop the Khalistan movement, he will face the same fate as former Prime Minister Indira Gandhi.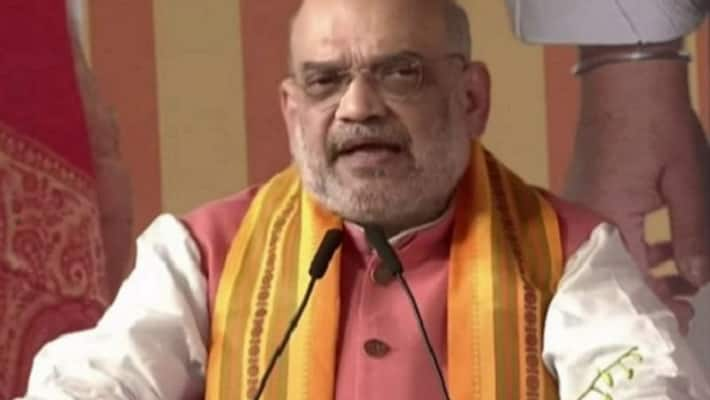 First Published Feb 23, 2023, 10:55 PM IST
There is a tense situation in Punjab today. The arrest of a member of the Waris Punjab De Sanstha led to large-scale agitations and violence in the state. In this order, the head of that organization, Amritpal, a supporter of Khalistan, simultaneously targeted Union Home Minister Amit Shane and threatened him. 'Waris Punjab De' Chief Amritpal Singh has made sensational comments that if he tries to stop the Khalistan movement, what happened to former Prime Minister Indira Gandhi will happen to Home Minister Amit Shah.
It seems that former Prime Minister Indira Gandhi was killed by her body guards for sending the army to the Golden Temple in Amritsar as part of Blue Star, and Amritpal Singh threatened that Amit Shah would also suffer the same fate. But it is noteworthy that the same comments are made in continuation of that.
'Every child in Punjab talks about Khalistan'
Amritpal said.. "I did not threaten the Home Minister in any way. Amit Shah threatened me not to let the Khalistan movement grow. The agencies want to kill me. Amritpal said that Indira Gandhi also tried to suppress us, but she knows what happened. It remains to be seen whether Amit Shah will fulfill his wish. Amritpal said tell Amit Shah that every child in Punjab talks about Khalistan.
Everyone knows what the result was if Indira Gandhi pressed too. Amit Shah said that they are asking to fulfill their wish. It is noteworthy that recently Home Minister Amit Shah talked about removing supporters of Khalistan. He said that the government is keeping a close watch on the supporters of Khalistan in Punjab. Amritpal Singh said that in the face of the demand for a 'Hindu State' in the country, if the same warnings are given against the Khalistani movement by those who are demanding a Hindu State, we will see how long Amit Shah will be the Home Minister.
Tension in Amritsar
At the same time, Amritpal's close friend Lovepreet Toofani, who was arrested in the kidnapping case, was demanded to be released. In this sequence, Amritpal Singh and his supporters clashed with the police in Amritsar. On February 15, a youth named Barinder Singh of Chamkaur Sahib was abducted by some people. He allegedly made comments against Amritpal on social media. It is alleged that Barinder was kidnapped and severely beaten. A case was registered against 30 supporters, including Amritpal and his associate Lovepreet alias Toofani, on the complaint of the youth. Toofani was arrested in this case.
Attack on police station.. Police injured
Thousands of supporters of Amritpal Singh reached Ajnala police station after Toofani's arrest. They surrounded the police station. Nana was shocked. Six policemen were reportedly seriously injured in their attack. At this time Amritpal Singh was also there. His supporters gathered with weapons and swords in hand. On this occasion stones were pelted on the police. A large number of Nihangs arrived with swords in support of Amritpal. On this occasion, there was also an argument with the police.
Last Updated Feb 23, 2023, 10:55 PM IST
.