Union Finance Minister Nirmala Sitharaman said her government is not selling public sector companies. She said that the opposition leaders are aware of this matter but they are criticizing it. She made these comments at the 'Raisina Dialogue-2023' held in Delhi.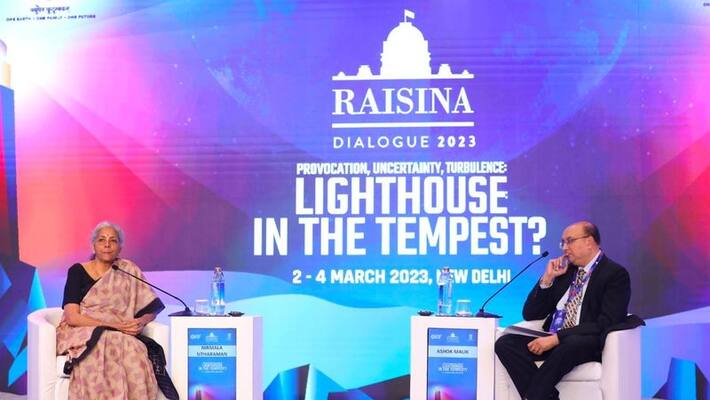 First Published Mar 5, 2023, 11:03 AM IST
Finance Minister Nirmala Sitharaman has rejected the opposition's allegations that the government is selling the central public sector enterprises. He said that there is no sector in India which is not accessible to the private sector. She was speaking at the 'Raisina Dialogue-2023' program organized in Delhi on Saturday. "The government is not selling everything. This matter is also fully understood by the opposition. But they say we are selling them. We are not selling them," Sitharaman said looking at Congress leader Shashi Tharoor who was sitting in the audience.
Joint letter of opposition parties to Prime Minister Modi.. Reference to Sisodia's arrest.. Letter signed by 9 leaders..
The Finance Minister made it clear that the public sector policy is not crazy and the government is not selling everything. He stated that the government has said that there will be a minimum presence in four key sectors, but they are also open to the private sector. He said that the government will have a presence in a strategic sector like telecom. India has the right combination of elements for a developing economy, he said.
Boiler explosion in a government sugar factory in Karnataka. Four workers seriously injured
On this occasion, she said that India has supported neighboring Sri Lanka which is reeling under the worst financial crisis. She commented on the lack of consensus on global peace at the recent G20 Finance Ministers' meeting in Bangalore. He said that he could not issue a joint declaration, but agreed on many points.
"A joint statement was not issued after the G20 Finance Ministers meeting. However, it is noteworthy that out of the 17 issues released in the chair document, there is consensus on 15 issues. Both countries may have objected to the points of conflict. But on the whole we agree on many things. He said that a consensus has been reached on the debt-related stress. The voice of the Global South must be heard, as the G20 suggests. "This meeting is a good platform to solve problems," she said.
Will contest 80 Lok Sabha seats in UP in 2024: Akhilesh Yadav
Meanwhile, Sitharaman announced in the latest budget that the government will raise Rs 51,000 crore by selling shares in various public sector companies in the financial year 2024. This is marginally higher than the current year ended March 31, 2023.
Last Updated Mar 5, 2023, 11:03 AM IST
.