ugadi 2023: According to Panchangam.. it is celebrated on the first day of Chaitra month. This festival is very special for Telugu people. It is believed that worshiping Lord Vishnu on Ugadi day will remove all sins.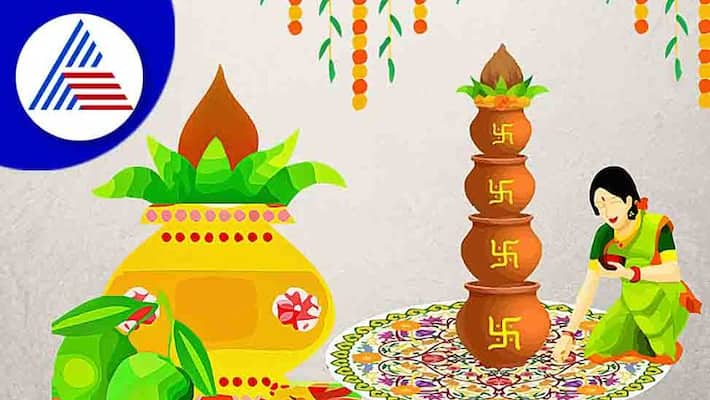 First Published Mar 14, 2023, 11:53 AM IST
ugadi 2023: Ugadi is an important festival for Hindus. This year Ugadi falls on March 22. It marks the New Year for the Indian states of Andhra Pradesh, Telangana and Karnataka. It is celebrated on the first day of Chaitra month according to Hindu calendar. Marathi and Konkani Hindus also celebrate Gudi Padwa on this Ugadi festival.
Ugadi Rituals, Significance
Traditional rituals on Ugadi day begin with an oil bath. After that they pray. On the occasion of Ugadi, they bathe their heads with oil. Colorful garlands are placed in front of the porches. Arches are made for the doorways. Garnish with mango leaves.
Buying new clothes, giving alms to the poor, taking a special bath, preparing Ugadi Pachadi and distributing it, visiting Hindu temples are some of the common practices followed on Ugadi day.
The preparations start a week before the Ugadi festival. Houses are thoroughly cleaned and decorated with fresh mango leaves. Mango leaves and coconuts are considered sacred in Hindu tradition.
Ugadi Puranas
Ugadi festival is related to birth. According to an ancient legend.. it is believed that Lord Brahma started the creation of the universe on the day of Ugadi. Then he created days, weeks, months and years. That is why Ugadi is called the first day of creation of the universe.
Vishnu is known by various names in Hindu scriptures. One of them is Yugadikritham. It means Yugas or creator of ages. Devotees worship Lord Vishnu fervently on Ugadi day. It is believed that he will be blessed with happiness and happiness.
Last Updated Mar 14, 2023, 11:55 AM IST
.