Congress MP Rahul Gandhi lashed out at the central government. Rahul spoke to the media in Delhi about the central government's refusal to agree to the Adani case while the leaders of the opposition parties were insisting on a debate in the parliament. He demanded that there should be a discussion on the Adani Group issue. He said that the central government is afraid to hold a discussion.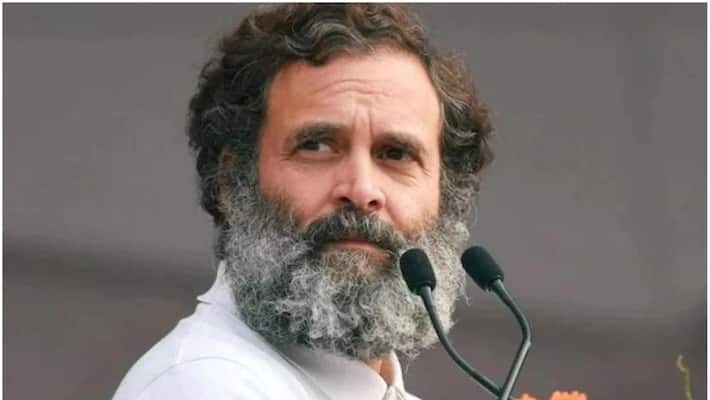 First Published Feb 6, 2023, 11:43 PM IST
The opposition has been constantly attacking the government over allegations of fraud against the Adani Group. There was confusion in both the Houses of Parliament on Monday (February 6) as well, after which the Houses were adjourned to Tuesday (February 7). On the other hand, Congress MP Rahul Gandhi also attacked the government on this issue. Rahul Gandhi said that the government will try its best not to discuss the issue of Adani in the Parliament. He said that permission should be given to discuss this matter in the Parliament and there should be a discussion on it in the Parliament, who is the power behind Adani ji and the country wants to know.
He accused me that I have been saying hum do, hamare do for a long time about the government and now they are trying their best not to discuss about Modi ji.. Adani ji.. I have been raising this issue for 2-3 years. I want the milk to turn into water in the milk. Rahul Gandhi demanded that there should be a discussion on the corruption of lakhs of crores.
Leaders of several opposition parties, including the Congress, staged a sit-in in front of the Mahatma Gandhi statue in the Parliament premises on Monday regarding the allegations against the Adani Group. The opposition has demanded the formation of a Joint Parliamentary Committee (JPC) or an inquiry into the matter under the supervision of the Supreme Court. The Congress says that there should be a discussion on this issue in the House and Prime Minister Narendra Modi should give an answer. US-based short-seller Hindenburg Research has released a report alleging Adani Group share manipulation and fraud. However, Adani Group denied these allegations.
Last Updated Feb 6, 2023, 11:43 PM IST
.