BJP asked Congress chief Mallikarjun Kharge and former party chief Sonia Gandhi whether they would support Rahul Gandhi's irresponsible comments on Indian democracy in Britain. It is said that Rahul has spoken abroad to insult many systems of India.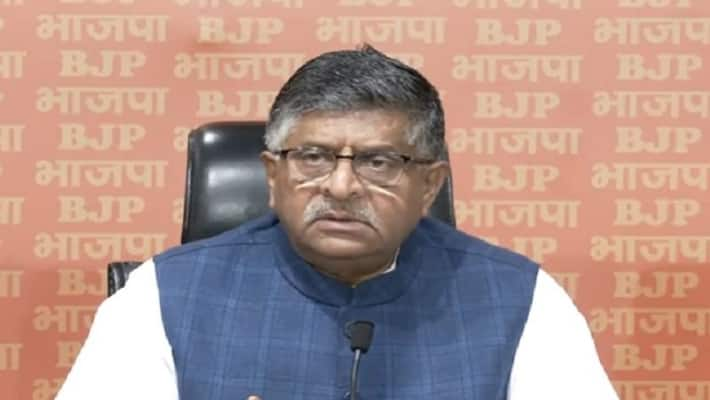 First Published Mar 7, 2023, 4:41 PM IST
BJP was furious over Rahul Gandhi's criticism of Indian democracy and RSS in Britain. The BJP said that it is clear that he is completely under the influence of Maoist ideology through his followers and anarchist forces. Former Union Minister and BJP leader Ravi Shankar Prasad said his party expressed its disapproval of Gandhi misusing the platform of the British Parliament to propagate shameful lies and baseless claims. He spoke to the media on Tuesday. He accused the Congress leader of insulting Indian democracy, political system, parliament, judiciary and strategic security abroad.
Speaking to British parliamentarians in London on Monday, Rahul Gandhi said that the microphones working in his Lok Sabha are often silent against the opposition. Speaking at a program organized in the House of Commons complex by Labor Party MP Virendra Sharma, a prominent opposition leader of Indian origin, he said that the opposition parties in India are not allowed to discuss issues in the Parliament.
Ravi Shankar was furious on these comments. By criticizing Indians abroad, Rahul Gandhi called all parliamentary norms, political expediency and "disgrace to democracy". Ravi Shankar criticized that Rahul Gandhi is seeking the intervention of Europe and America in India. He said he went against the consensus in India that foreign powers should not interfere in their internal affairs. Congress president Mallikarjuna Kharge and Sonia Gandhi should respond to Rahul Gandhi's irresponsible comments. Do you reject those comments? Or support it? Ravi Shankar asked.
On the other hand, Ravi Prasad's media conference was tagged by Congress media wing chief Pawan Khera on Twitter.
Last Updated Mar 7, 2023, 4:41 PM IST
.