'Writer Padmabhushan' is a film directed by debutant director Shanmukha Prashant. The film is going to premiere worldwide on Zee5 on March 17.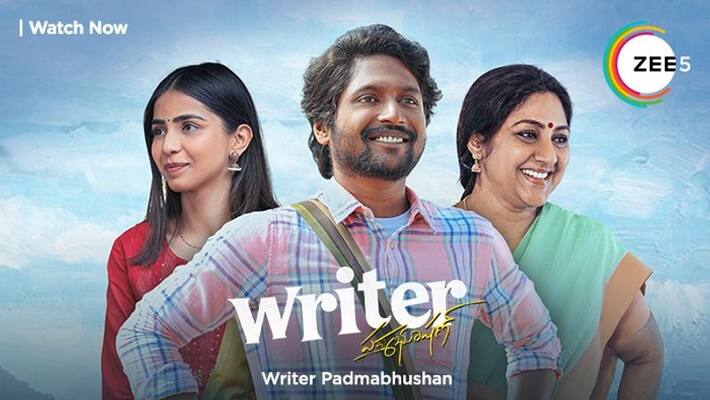 First Published Mar 17, 2023, 3:20 PM IST
The film is directed by debutant director Shanmukha Prashant 'Writer Padma Bhushan'. The film is a comedy drama. The film is produced by Sarath Chandra, Anurag Reddy and Chandru Manohar under the banner of Lahari Films and Chai Biscuit. Young actor Suhas acted in the lead role in this film. Suhas acted as a young man who dreams of becoming a writer. Tina Shilpraj, Rohini, Ashish Vidyarthi in other roles. The cinematography of this film was provided by Venkat Sakamuri, editing by Kodati Pawan Kalyan and Siddharth Tatolu.
Coming to the story.. Padmabhushan (Suhas) who works as a library employee dreams of becoming a good writer. Padmabhushan published his first book 'Tholi Patti' at his own expense which did not meet expectations. But after that Padmabhushan grows up to be a writer whom everyone admires. A book not related to him is published under the name of Padma Bhushan and brings him good name. This story is shown in a humorous way. Who is the original author of that book? Why published on his name? The story progresses interestingly with the elements.
Meanwhile, the prestigious Geetha Arts Company has acquired the theatrical rights of this film. While Kalyan Naik has given the music for this film, Sarath Chandra has given the songs along with him. Released on February 3, the film received an excellent response from the audience. Director Shanmukha Prashant said that this film, which is made as a family drama, will make everyone laugh. This feel-good family drama film is going to premiere worldwide on Zee5 on March 17.
plot
The story of this film takes place in Vijayawada. This story revolves around the character of Padmabhushan. Padmabhushan, the only son of his parents, dreams of becoming a good writer. The story revolves around the twists and turns in his life and how he finally wins Sarika's mind.
Actors
Suhas as Padmabhushan
Tina Shilparaj as Sarika
Rohini as Padmabhushan's mother Saraswati
Padma Bhushan's father, Madhusudan Rao, is played by Ashish Vidyarthi
Gauri Priya in the role of Kanna
Release date
Famous G5 company Writer Padmabhushan World Digital Rights has been acquired. The film will be available on the G5 OTT platform from March 17, 2023. The film is emotionally engaging with a positive message. Writer Padmabhushan's two-and-a-half-minute long trailer has comedy and romantic moments. For the trailer Click here.
Last Updated Mar 17, 2023, 3:20 PM IST
.